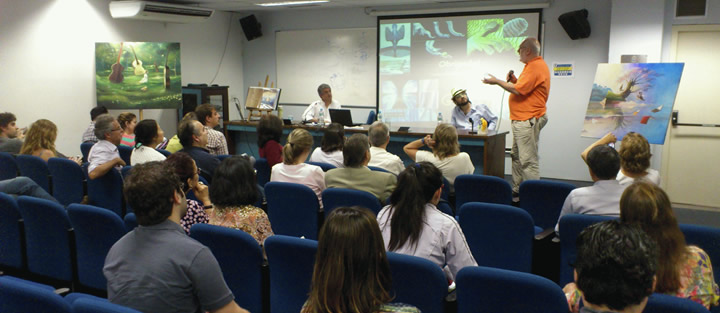 Sobre o NEF
"O Núcleo de Estudos do Futuro-NEF celebrou em 2014 seus dez anos de atividades na Universidade PUC-SP. Representa no Brasil a rede internacional do Projeto Milênio, mensalmente organiza os ENCONTROS COM O FUTURO na PUC-SP, documentados na Videoteca de Universidade.

A partir de 2008 ficou responsável pela parceria da PUC-SP com Universidades da China, Japão, Holanda, Finlândia e Malásia, na organização dos Congressos Internacionais sobre Gestão de Inovação ICIM, os quais aconteceram no Brasil, na PUC-SP, em 2009 e 2013.  A partir dessa parceria, foi criada a Revista RISUS (Jounal on Innovation and Sustainability. RISUS ISSN 2179-3565) sobre o tema de Inovação e Sustentabilidade. É responsável pelo Programa de Pós-Graduação em Administração pela PUC-SP, bem como do boletim/caderno de Análise Estatística BASTA, além de contribuir com a Gestão Pública Municipal através do Guia de Gestão Pública Sustentável GPS. Recentemente organizou o workshop UNESCO Foresight elaborado em parceria com o Núcleo GEPI da PUC-SP, propostas para promover uma Cultura de Antecipação nas Universidades. Em 2012 e 2013 publicou dois livros bilíngues de divulgação e referência, pela Editora Brasileira: Um sobre Energias Renováveis no Brasil e outro sobre Biomas Brasileiros."
Sobre o Núcleo
---
O Futuro das Tecnologias e o Trabalho
ÓMICRON NO ES EL FINAL DE LA PANDEMIA PERO SÍ LA CAMBIARÁ
Nadie debería afirmar con seguridad que la variante ómicron es un indicio del final de la pandemia, pero debemos confiar en que las futuras olas de infecciones, ya sean de ómicron o de la variante que surja después, provocarán enfermedades graves en menos de nosotros que antes. Tal vez el futuro nos depara días mucho mejores, pero tal como el mundo lo ha aprendido en los últimos dos años, solo los ingenuos con muy poca memoria hacen promesas en una pandemia. W. Hanage
Livro - Sustentabilidade e Responsabilidade Social em Foco volume
Papa Francisco anuncia criação de órgão para Amazônia no Vaticano
Papa encerra sínodo da Amazônia com defesa da Terra e dos pobres
AMAZONÍA Nuevos Caminos para la Iglesia y para una Ecología Integral
BENEFICIAL AI 2017: ASILOMAR PRINCIPLES
SITE I | SITE II | SITE III
21 possíveis empregos do futuro para conhecer hoje
MELHOR CARREIRA PARA O FUTURO? SABER PENSAR
Revolução 4.0 e a necessidade de reinvenção do mundo do trabalho na América Latina
BERTELSMANN STIFUNG - 2050: The Future of Work. Findings of an International Delphi-Study of The Millennium Project, 2015.
Robots will make life grim for the working class
ROBÔ SOPHIA ACREDITA QUE MÁQUINAS E HUMANOS PODEM SER PARCEIROS INCRÍVEIS
CARREIRA EM INTELIGENCIA DIGITAL
POLUIÇÃO E DOENÇAS NO BRASIL
Google's AI Assistant Can Now Make Real Phone Calls
THE COMPETING FORCES SHAPING 2030
PDF
QUER SE PREPARAR PARA O FUTURO DO TRABALHO? PENSE EM SUA CARREIRA COMO UMA STARTUP
Vídeo
RESKILLING REVOLUTION Needed for the Millions of Jobs at Risk Due to Technological Disruption
BRASIL ENGATINHA NA PRÓXIMA ONDA TECNOLÓGICA, MAS HÁ UMA SOLUÇÃO.
O ADMIRÁVEL MUNDO NOVO DA QUARTA REVOLUÇÃO INDUSTRIAL.
ROBÔS ESTÃO MUDANDO O JOGO E CHINA LANÇA OFENSIVA
NA ERA DAS NOVAS HABILIDADES, OU VOCÊ MUDA OU VIRA OBSOLETO.
Students are being prepared for jobs that no longer exist. Here's how that could change
Atlas: Geografia do Uso de Agrotóxicos no Brasil e Conexões com a União Europeia - Larissa Mies Bombardi
E-book: Geografia do Uso de Agrotóxicos no Brasil e Conexões com a União Europeia
Ciudades inteligentes: los nuevos centros de desarrollo en la Cuarta Revolución Industrial
This mind-reading AI can see what you're thinking - and draw a picture of it
With our Smart, Collaborative Robot Pioneer
5 fascinantes predicciones sobre el futuro de las megaciudades
El futuro de Colombia se discute en el MIT y Harvard
Índice de Desenvolvimento Humano não mede qualidade real da educação de um país
Robots will soon be able to taste and smell your bad cooking
In Latin America, companies still can't find the skilled workers they need
Latin America has the biggest skills gap in the world. Here's how to bridge it
2016-2017 Talent Shortage Survey
ENCONTROS COM O FUTURO
O CIBERNÉTICO E O HUMANO NO TRABALHO. Correr na frente do computador é complicado, mas é preciso aprender a correr com ele.
Ciudades inteligentes: los nuevos centros de desarrollo en la Cuarta Revolución Industrial
This mind-reading AI can see what you're thinking - and draw a picture of it
Everything I Needed to Know About Cybersecurity I Learned from This 11-Year-Old
2017 Was The Year The Robots Really, Truly Arrived
Brasileiros 'fabricam' bitcoins no Paraguai
What Bitcoin Is, and Why It Matters
Weekend Reads: Understanding Cryptocurrency
Os africanos que propuseram ideias iluministas antes de Locke e Kant
Everything you need to know about... tech
The inventor of the smartphone apologizes
You Could Become an AI Master Before You Know It. Here's How.
Foro Desafíos de la Cuarta Revolución
Labor 2030: The Collision of Demographics, Automation and Inequality
INTELLIGENT TECHNOLOGY MEETS HUMAN INGENUITY TO CREATE THE FUTURE WORKFORCE
Site | PDF
WHAT WOULD HAPPEN IF YOUR 40 HOUR WORKWEEK WERE ENTIRELY DEVOID OF OTHER PEOPLE.
CADA ROBÔ DESEMPREGA 3 NOS EUA, MAS HUMANOS TERÃO VAGAS, INDICA ESTUDO
50% do trabalho no Brasil pode ser feito por robô, diz estudo da consultoria McKinsey
IA e tecnologias disruptivas vão revolucionar as profissões até 2030, diz especialista
As previsões tecnológicas para 2018
8 ways AI can help save the planet
Site | PDF
These 3 Technological Forces Are Changing The Nature Of Work
Introduction: Rewriting the rules for the digital Age
The Future Of Employment: How Susceptible Are Jobs To Computerisation?
2017 Global Human Capital Trends
The jobs artificial intelligence will most likely replace
Reviewing last year's AI-related forecasts
Your business and career will benefit if you strategically pursue the smartest of today's ideas.
Comprehensive Plan to REVERSE Alzheimer's
The Disruptors - Money changing - BBC News
O exercício cibernético da OTAN na Estônia
3D printing meets medical imaging
Construindo o futuro do transporte inteligente
MI VISION DEL FUTURO DE CHILE- Desafío para la ingeniería y los ingenieros
Using microrobots to diagnose and treat illness in remote areas of the body
Take a fantastic 3D voyage through the brain with immersive VR system
Look up - Kleber Carriello - Gary Turk - Legenda Português BR
Cultura Colaborativa da Nova Zelândia para o Brasil
Solar supercapacitor creates electricity and hydrogen fuel on the cheap
10 Amazing Robots That Really Exist
Welcome to the startup jungle | The Economist
De Propriedade Privada a Propriedade Compartilhada
Startup norte-americana pretende zerar filas de transplantes
Survivor or strategist: Using digital technologies to drive growth in the metals industry
O império dos monopólios. Artigo de Joseph Stiglitz
ESTADÃO DISCUTE | Fake news
Opinion Predictions 2018: AI is tough stuff and many organizations will fail at it
Sistema bancário norte-americano é alvo de ataques cibernéticos
Das SmartCities a cidades globais no declínio dos atores internacionais
O Papel da Tecnologia nas Smartcities
This Robot Snake Means You No Harm, Really
Snake Monster - Initial Locomotion
Carnegie Mellon Modular Snake Demo | Engadget Expand 2013
Technology Vs. Humanity
Inside The Race To Hack The Human Brain
Palestra sobre Sociedade 5.0 (síntese) na FIESP
Impactos da Sociedade 5.0 (Sociedade Super Inteligente) e Indústria 4.0
Redes sociais prometem 'comunidade global', mas resultado é polarização e não união, diz historiador
Inovação, o desafio da indústria
How The Tech Revolution Is Bringing Flip-Flops And Beanbags To Wall Street
Revolução 4.0: Uma coisa é a máquina técnica, outra é a máquina social, a máquina de guerra que utiliza essa tecnologia. Entrevista especial com Maurizio Lazzarato.
Vida e Inteligencia Artificial: La revolución que desafía al mundo actual.
As 10 principais tendências tecnológicas estratégicas para 2018, segundo o Gartner
Receita de iniciativas digitais já representa 20% do total de negócios, diz Gartner
9 motivos para você repensar sua profissão.
Tech Breakthroughs megatrend
Tech breakthroughs megatrend: how to prepare for its impact
Los trabajos del futuro... y dos habilidades que necesita para obtenerlos
Como será el Trabajo del Futuro?
O Futuro das Tecnologias e o Trabalho
Robots Will Steal Your Job But That´ s OK: How to Survive the Economic Collapse and Be Happy explores the impact of technological advances on our lives, what it means to be happy, and provides suggestions on how to avoid a systemic collapse. The author started social movements and non-profits focused on human rights, anti-corruption, environmental sustainability, and innovation for positive social change through exponential technologies.
De olho nas relações de trabalho do futuro, metalúrgicos debatem 'indústria 4.0'
Os robôs ocupam nossos postos de trabalho desde os anos 1960 ( Fórum Econômico Mundial, 26-09-2017 )
How our lives will change dramatically in 20 years
Elon Musk says Robots will Push Us to a Universal Basic Income—Here's How It Would Work
Robots will not take our jobs
New Brain Computer interface technology | Steve Hoffman | TEDxCEIBS
JOHN ELKINGTON TAKING SUSTAINABILITY EXPONENTIAL August 22, 2017
- Taking Sustainability Exponential - John Elkington, Co-Founder of Volans
New Brain Computer interface technology | Steve Hoffman | TEDxCEIBS
Technology and Morality in the Age of Climate Change, Overpopulation, and Biodiversity Loss
La Inversión Extranjera Directa en América Latina y el Caribe
O FUTURO DA TECNOLOGIA E O TRABALHO – Apresentações
WORKFORCE OF THE FUTURE THE COMPETING FORCES SHAPING 2030
4 scenarios according to PwC: "humans come first," one where "innovation rules," one where "companies care," and one where "corporate is king."
THE FOURTH INDUSTRIAL REVOLUTION: WHAT IT MEANS, HOW TO RESPOND.
We stand on the brink of a technological revolution that will fundamentally alter the way we live, work, and relate to one another.
EMPLEOS TODAVÍA DESCONOCIDOS PARA LA PRÓXIMA DÉCADA
Un informe hecho público por Dell Technologies pone en evidencia la incertidumbre que los cambios y avances tecnológicos generan en el mercado laboral.
HIGH TECH LOW HUMAN Eliminating the Human
We are beset by—and immersed in—apps and devices that are quietly reducing the amount of meaningful interaction we have with each other.
EMPATHETIC ROBOTS
What is the role of emotion in the evolution of our species? Research has shown that humans bond with other humans by establishing a rapport.
BUSINESS CAN HELP CREATE A MORE COLLABORATIVE AND INCLUSIVE SOCIETY, BUT FIRST THIS NEEDS TO CHANGE
HOW DO WE MOVE FORWARD IN THE NEW ECONOMY?
Future of Jobs at Risk of Automation: Economists are observing the trend that machines would soon replace people for most of current economy jobs.
LINKS BETWEEN SCIENCE FICTION AND ECONOMIC HISTORY SHOW THE NEED TO FOCUS ON MORAL AND SOCIAL IMPROVEMENTS
We believe in innovation, but have given up on progress, and the possibility of moral and social improvement. Our real challenge is not the proverbial fight between man and machine, is the struggle with a technological discourse that discounts our ability to shape a better future; a discourse that makes us passive subjects in a world of volatility, uncertainty, complexity and ambiguity.
Sistemas complejos (Documental)
Index shows the global innovation gap is growing
OpenMind Compartiendo Conocimiento para un Futuro Mejor. BBVA
PROGRAMA SOBRE O FUTURO DAS TECNOLOGIAS E O TRABALHO